Islamic State in the Philippines
May 31, 2017
The spread of IS in the Philippines will perhaps be the single, biggest challenge for Pres. Rodrigo Duterte. Regardless of what his priorities were when he strode into Malacanang, dealing with this threat will consume more and more of his time, and become the defining issue of his presidency.
It will constrain the growth of the economy, and re-shape internal politics as well as international relations for at least the next decade. So it is best to acquaint ourselves with what IS is, who is behind it, where did it come from, and what it intends to achieve.
Back in March 2016, the chairman of the Moro Islamic Liberation Front, Al Haj Ebrahim Murad declared that ISIS would gain a foothold in the Philippines, if the next president failed to rescue the stalled peace process. This came after IS attacks in Jakarta had many security experts fear that the southern Philippines would be next. 
IS seeks to restore the caliphate
The Islamic state, like al-Qaeda belongs to the jihadi school of thought, which seeks to reorder government and society in accordance with Islamic law, or Sharia. Late-20th century jihadism was influenced by the Muslim Brotherhood in Egypt which promoted the restoration of the caliphate as the ideal system for the Islamic world, and Salafism from Saudi Arabia, a theological movement from within Sunni Islam, which seeks to purify the Islamic faith from idolators (shirk) that detract from the oneness of God (tawhid). 
According to the Princeton Encyclopedia of Islamic Political Thought,
A caliphate is an area containing an Islamic steward known as a caliph—a person considered a religious successor to the Islamic prophet, Muhammad (Muhammad ibn Abdullah), and a leader of the entire Muslim community.
The Sunni branch of Islam believes that as a head of state, a caliph should be elected by Muslims or their representatives, while followers of Shia Islam, believe a caliph should be an Imam chosen by God from the Ahl al-Bayt (the "Family of the House", Muhammad's direct descendants).
Salafis consider themselves to be the only true Muslims. They are opposed to what they see as the excessive veneration practiced by Shi'a muslims of the Prophet Muhammad's family. Many salafis are also opposed to democrats, for assigning "partners" to God in legislation, which they see as the sole prerogative of the Divine legislator. As Cole Bunzel wrote
If jihadism were to be placed on a political spectrum, al-Qaeda would be its left and the Islamic State its right. In principle, both groups adhere to Salafi theology and exemplify the increasingly Salafi character of the jihadi movement. But the Islamic State does so with greater severity. In contrast with al-Qaeda, it is absolutely uncompromising on doctrinal matters, prioritizing the promotion of an unforgiving strain of Salafi thought.
The Islamic State of Iraq began in 2006 and gained international recognition when it announced its plans of expanding into Syria in 2013. It rebranded itself as the Islamic State of Iraq and Sham (ISIS), and after occupying most Sunni areas in the area in June 2014 declared itself a caliphate, or global Islamic empire. In November 2014 alone, the BBC recorded over 5,000 deaths worldwide as a result of Islamic State militant operations. Of that total 9 attacks resulting in 50 deaths took place in the Philippines (see map below).
ISIS attacks recorded in November, 2014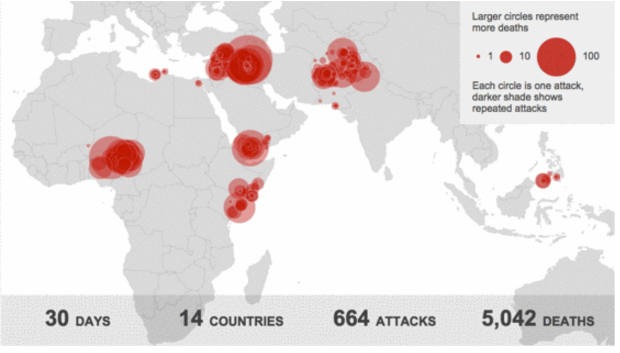 Source: BBC
ISIS-affiliates
There are five known terrorist groups in the Philippines that have pledge support to ISIS. These are the Abu Sayyaf Group, Ansar Khilafali Philippines, Khilafaf Islamiyah Mindanao, Bangsamoro Islamic Freedom Fighters and the Maute Group.
The Australian government through its Foreign Minister in February 2017 warned that IS was looking to declare a caliphate in the southern island of Mindanao. Security analysts have long assessed the risk of this as being high. A report by Intelligent Security Solutions released in May 2016 contended that
The Philippines is emerging as the epicenter of Islamic extremism in the region and will likely serve as the regional headquarters for ISIS…With other regional governments seeking to impede travel of their citizens to Syria, the Philippines may become an alternate destination for ISIS jihadist training…[and] may also serve as a frontline for jihadists to gain combat experience [emphasis added].
In the first half of 2016, under President Aquino, security officials downplayed the presence of ISIS in the Philippines. Under President Duterte, the military has taken a more active role in law enforcement and in forging trilateral military ties with Malaysia and Indonesia to jointly patrol its seas to prevent maritime crime and terrorism.
The Australian Transaction Reports and Analysis Centre in its country risk rating of the Philippines has identified criminal activity as the biggest source of financing terrorist groups in the south. It has stated that "The Philippines has experienced a wide range of crimes – including smuggling of goods and weapons and trafficking of people and drugs – but kidnap-for ransom and extortion are the main income streams."
Source: Austrac.gov.au
An emerging ISIS hub
There were numerous incidents in the Philippines in 2016 that pointed to an increased ISIS presence in the Philippines. The following are excerpts adapted from CNN and ICPVTR:
March 16, 2016 – Ansar Khilafali, released a video showing the beheading of an accused spy, identifying the man as Robert Pepito.
April 3, 2016 – A pro-ISIS jihadi posted a video showing an undated attack by a group pledged to ISIS in the Philippines. In Arabic and Maranao, the video is posted on Telegram and produced by a media unit called "Ala al-Haqi Madhoon." No location for the attack is given.
April 9, 2016 – ISIS said its supporters had conducted their first attack in the Philippines, claiming they killed 100 Filipino soldiers. The claim was disputed by Filipino officials, who said 18 soldiers had been killed in a gunbattle with another jihadist group — Abu Sayyaf — in the town of Tipo-Tipo. The officials played down any ISIS role in the attack. The origins of the attack are unclear.
April 21, 2016 – ISIS supporters who had defected from another jihadist group in the Philippines issued a video showing the undated execution of two men, claiming they were spies.
May 9, 2016 – ISIS supporters in the Philippines claimed a raid on a military checkpoint in Maluso province, killing one soldier. It was the second claim of an attack on the Philippines' military by ISIS in as many months. ISIS appointed an emir for its followers in the Philippines, Isnilon Hapilon a former Abu Sayyaf commander.
June 2016 – IS released a video of four different battalions making a pledge of allegiance to Hapilon. This followed a video released in December 2015, which showed battalions from Abu Sayyaf Group, Maute GRoup, Ansar Khilafah Philippines, Bangsamoro Islamic Freedom Fighters, led by Hapilon pledging allegiance to IS.

An IS video also called on those who could not emigrate to Iraq and Syria to go to the Philippines. Katibah Al-Mujajir or The Brigade of Migrants was placed under the command of Hapilon to facilitate movement of people to Mindanao.

27 August 2016 – The Maute Group staged a jailbreak in Marawi City freeing 8 of its members who were arrested several days earlier.
2 September 2016 – The Maute group exploded a bomb in the busy night market of Davao killing 14 people and injuring more than 60. This led to Pres. Duterte declaring a state of emergency 3 days later on 5 September throughout the Philippines to allow security forces to conduct police operations and impose curfews in certain areas.
28 November 2016 – IS militants had planned to detonate a bomb at a park before depositing an improvised explosive device near the US embassy. The device was subsequently detonated by police. This led police to raise the terror alert to its highest level across the country on 1 December.
Hapilon is the leader whom authorities tried but failed to arrest on May 23, 2017. This precipitated the Marawi siege. The Maute group after being called on by Hapilon responded by sending 400-500 fighters who stormed the city, raised the IS flag, took hostages and burned several buildings.
Subsequent reports have indicated that as many as 40 overseas fighters participated in the siege including foreign nationals from Indonesia, Malaysia, Pakistan, Saudi Arabia, Russia (Chechen), Yemen, India, Morocco and Turkey. Indonesian authorities arrested two men on May 30, 2017 on suspicion of helping terrorists travel from Indonesia to the Philippines.
Challenge ahead
There are as many as 1,000 IS militants in Iraq and Syria that came from Southeast Asia, according to the Carnegie Council.  As they are gradually pushed out of their strongholds of Mosul and Raqqa, the risk is for these battle-hardened combatants to re-settle in their home region and spread their Islamist ideology by linking up with armed networks in the Philippines.
The Philippines is vulnerable to infiltration due to its porous borders, its poor security apparatus and conflict-ridden communities in the south. Their presence could increase criminal activity such as kidnap for ransom and piracy on the high seas, which in turn could disrupt commerce and trade routes in the region.
While these ISIS affiliates do not yet have the capacity to launch massive, mass-casualty attacks like the Bali bombing of 2002, by the al-Qaeda-linked Jemaah Islamiah, they soon might be able to. The challenge is for governments in the region to work closely and more intensively to nip the problem in the bud, before it spirals out of control.